By using our site, you acknowledge that you have read and understand our Cookie Policy , Privacy Policy , and our Terms of Service.
How do you stay up to date in this fast⁠-⁠moving industry?
Stack Overflow for Teams is a private, secure spot for you and your coworkers to find and share information. I just have began to study ReactJS and found that it gives you 2 ways to render pages: server-side and client-side. But, I can't understand how to use it together. Is it 2 separate ways to build the application, or can they be used together?
If we can use it together, how to do it - do we need to duplicate the same elements on the server side and client side? Or, can we just build the static parts of our application on the server, and the dynamic parts on the client side, without any connection to the server side that was already pre-rendered?
Over here, you are completely running ReactJS on the browser.
A very simplistic example of what it takes to Server-Side render a React app
The initial HTML rendered by the server is a placeholder and the entire UI is rendered in the browser once all your scripts load. Think of ReactJS as a server-side templating engine here like jade, handlebars, etc Your page can be indexed by a search engine if one does not execute any javascript. Since the UI is rendered on the server, none of your event handlers would work and there's no interactivity you have a static page.
Here, the initial render is on the server.
Once the scripts are loaded, the virtual DOM is re-rendered once again to set up your components' event handlers. Over here, you need to make sure that you re-render the exact same virtual DOM root ReactJS component with the same props that you used to render on the server.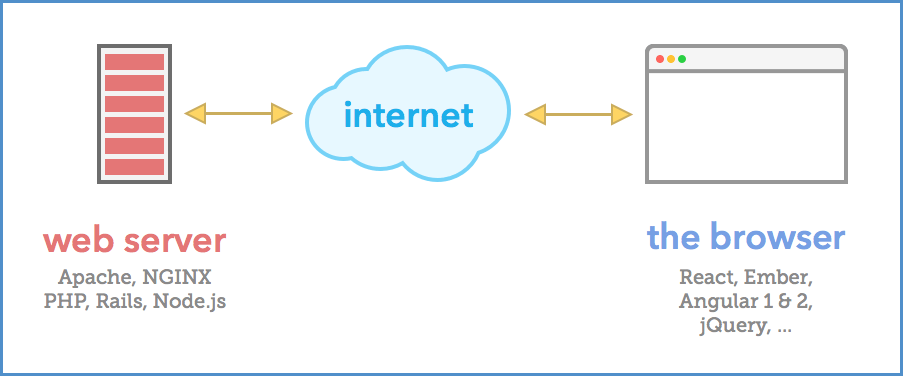 Only the event handlers are bound to the real DOM elements. Image source: Walmart Labs Engineering Blog.
It is also important to note that although, with SSR, the page renders quicker. The page will not be ready for user interaction until JS files have been downloaded and the browser has executed React. Understandably so, because the server takes some time creating the HTML document, which in turn increases the servers response size.
I was actually wondering the same researching quite a bit and while the answer you are looking for was given in the comments but I feel it should be more prominent hence I'm writing this post which I will update once I can come up with a better way as I find the solution architecturally at least questionable. You would need to write your components with both ways in mind thus basically putting if switches everywhere to determine whether you are on the client or the server and then do either as DB query or whatever appropriate on the server or a REST call on the client.
Announcing THE Book on Server Side Rendering for React with Next.js
Then you would have to write endpoints which generate your data and expose it to the client and there you go. However, it's not a limitation.
To build html on the server means losing access to objects like window, document you have these on the client , losing ability to incorporate async operations out of the box , and generally lots of code edits to get your code SSR compatible since you'll have to use webpack to pack your bundle.
Things like CSS imports, require vs import suddenly start biting you this is not the case in default React app without webpack.
Subscribe to the blog updates
My suggestion to folks starting out with SSR would be to serve out static html. Learn more. ReactJS server-side rendering vs client-side rendering Ask Question. Asked 5 years, 1 month ago. Active 4 months ago. Viewed 43k times. Ben Simcha Simcha 2, 7 7 gold badges 24 24 silver badges 36 36 bronze badges.
What is Server Side Rendering? How to do it with React?
Short answer, NO - you can decouple, send static html and completely change it in client render. Have added details in my answer.
Both Here, the initial render is on the server. Gautham Badhrinathan Gautham Badhrinathan 1, 17 17 silver badges 29 29 bronze badges. So in case of "both" I need to write the same code twice" one for server rendering, and one to reproduce this DOM on client? You need to run the same code twice.
Server-Side React Rendering
Once on the server and once on the client. However, you need to write your components to take this into account - e. You'll also need a strategy for fetching data up front on the server and making it available for initial render on the client, to make sure you get the same output.
Do you have a link to an example which fits your implementation? Again, happy to learn about a cleaner solution.
Best React.js Books You Have To Read
They can be used together. The general pattern of SSR looks like this. Kira Kira 9 9 bronze badges.
Sign up or log in Sign up using Google. Sign up using Facebook.
Server side react js book
Sign up using Email and Password. Post as a guest Name. Email Required, but never shown. How to create micro-interactions with react-spring: Part 1. This week, StackOverflowKnows syntactic sugar, overfit or nah, and the….
Featured on Meta.
Server-side Rendering React from Scratch! (Server-side Rendering with JavaScript Frameworks)
Thank you, Robert Cartaino. Change in roles for Jon Ericson leaving SE.
Server Side Rendering with React
Has Stack Exchange rescinded moderator access to the featured tag on Meta? How do the moderator resignations affect me and the community?
Linked 0. Related Hot Network Questions. Question feed. Stack Overflow works best with JavaScript enabled.